PLEASE let this be the only place in Delaware those two words are ever uttered! (Other than in BT's knee-jerk liberal socialist gun hating dreams.)

So, I am on my way home today and I am waiting to turn into a shopping center. In front of me I see a red Jeep with a Don't Tread On My Gun Rights sticker. Gadsen snake and everything. So we both pull into the lot and I go over to them and give my spiel on Townsend. They are totally into it. They want Dan's name. (Oh crap.) And where they can send the $5 or $10 check I asked them to. (Now I am really beginning to feel foolish.) Fortunately I had my phone so was able to pull it up and "complete my transaction". (Whew!)

So when I got home I put the following together and printed them out and now carry them in my back pocket for future transactions. I just thought I would share in case you can use this.

But in all seriousness, when you see something like this please take action. As I said before, even if District 11 is not your district. We, every damn gun owner in Delaware, simply MUST end Townsend's political career this fall!!!

All you have to say is that Townsend was the Senator that introduced the Cut-n-Paste MD Assault Rifle Ban here in DE that almost passed. BAM! The hook is set. Reel'em in now.
And please share your stories with us here. This really does feel good.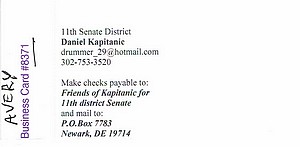 "The purpose of the pistol is to stop a fight that somebody else has started, almost always at very short range." -- Jeff Cooper