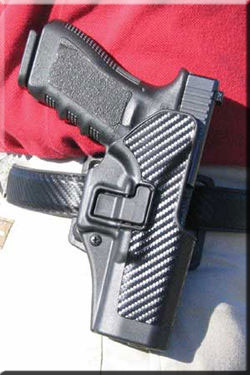 "Under current Delaware law, virtually anyone, excepting felons, may strap on a holster and carry a gun in plain view."
~Former Delaware Attorney General Charles M. Oberly, III.
Open Carry is simply defined as the act of carrying a weapon unconcealed or in the open. In Delaware, if you're at least eighteen years of age and are not a "person prohibited" from owning a firearm, it is lawful to open carry without a Delaware Carry Concealed Deadly Weapons (CCDW) license.
Folks open carry for many reasons -- self-defense being the first and foremost. Delaware's process for obtaining a CCDW License is very cost prohibitive and violates your privacy by requiring you to publish your full name and home address in the news paper which is not necessarily the best option for a victim of domestic violence seeking to protect oneself.
Many others also open carry as a form of symbolic speech. Much like people are allowed to wear religious garb, carry out boycotts and speak out against those whom have wronged them, open carrying is our way of expressing that we believe in the rights protected by our Constitution and is our attempt to educate people and encourage discourse with those who may have questions regarding open carrying.
If you have a question, we invite you to ask on our Forums. We are a kind and welcoming group and believe in civil discourse and being respectful of questions and comments that are civilly made, we simply ask that you do the same.